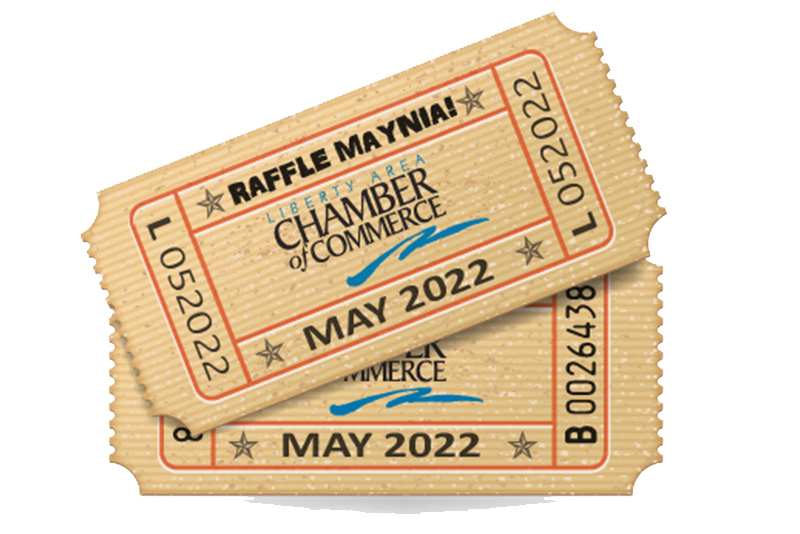 The Liberty Chamber is hosting our 5th annual Raffle Maynia during the month of May!
** 26 drawings totaling $3,860 in gift cards at member businesses that YOU could win! **
There will be live drawings each weekday at Facebook.com/liberty.chamber.
There are only 500 tickets available – each ticket is valid for every drawing!
$20 each or 6 for $100


| Business | Drawn On | Gift Card | or | Cash | Winning # |
| --- | --- | --- | --- | --- | --- |
| The Exercise Coach | May 2 | $329 | | $0 | 326 |
| J & S Pizza | May 2 | $25 | | $19 | 214 |
| Catch 22 Sports Bar and Grill | May 3 | $25 | | $19 | 144 |
| The Parlor | May 3 | $50 | | $38 | 191 |
| Conrad's Restaurant & Alehouse | May 4 | $50 | | $38 | 186 |
| Northstar Garden Center | May 5 | $150 | | $113 | 391 |
| Hy-Vee | May 6 | $500 | | $375 | 267 |
| Northland Rolladium Skate Ctr. | May 9 | $25 | | $19 | 283 |
| Rancho Grande Cantina | May 9 | $50 | | $38 | 153 |
| Plato's Closet | May 10 | $50 | | $38 | 168 |
| D'Agee & Co. Florist | May 11 | $50 | | $38 | 264 |
| Belvoir Winery & Inn | May 12 | $150 | | $113 | 194 |
| Champagne Jewelers | May 13 | $500 | | $375 | 219 |
| Sam's Club | May 16 | $250 | | $188 | 359 |
| The Landing Eatery & Pub | May 16 | $50 | | $38 | 194 |
| Honor Yoga | May 17 | $35 | | $0 | 270 |
| Margarita's | May 17 | $50 | | $38 | 365 |
| The Artisan Market | May 18 | $50 | | $38 | 217 |
| Lowe's | May 19 | $150 | | $113 | 416 |
| Cosentino's Price Chopper | May 20 | $500 | | $375 | 247 |
| BesaMe Wellness | May 23 | $25 | | $19 | 127 |
| Cold Stone Creamery | May 23 | $25 | | $19 | 356 |
| Wingz & More | May 24 | $50 | | $38 | 348 |
| Cycle of Heart | May 25 | $50 | | $38 | 393 |
| MO Sports | May 26 | 150 | | $113 | 165 |
| Crowley Furniture | May 27 | $500 | | $375 | 324 |
Official Rules
2021 winners