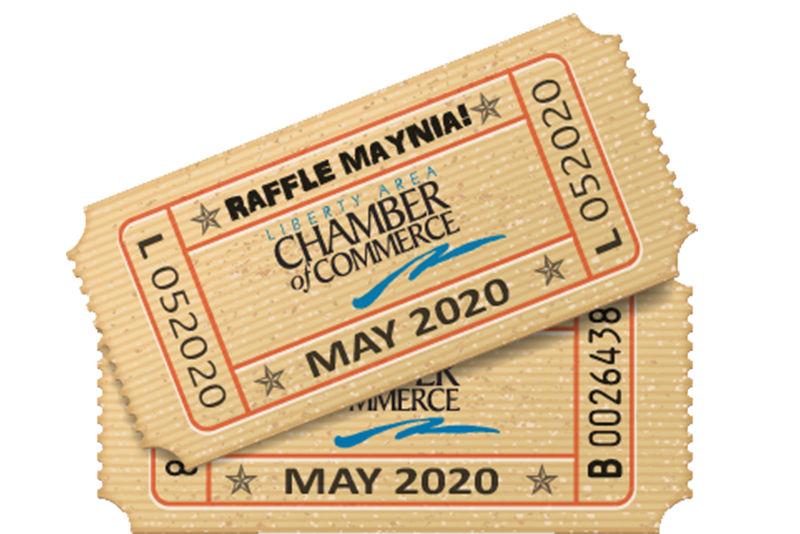 The Liberty Area Chamber of Commerce is hosting our 3rd annual Raffle Maynia! There are 40 drawings during May, a total of $4,500 in gift cards at member businesses that YOU could win!
There will be two drawings each weekday, watch them live at Facebook.com/liberty.chamber. Each entry is valid for every drawing.
Raffle sales will end on April 30th or when sold out – there are only 500 entries available. The cost is $20 per entry.


| Business | Drawn On | Gift Card | or | Cash |
| --- | --- | --- | --- | --- |
| Fun Run | May 1 | $25 | | $20 |
| Sam's Club | May 1 | $500 | | $375 |
| Rancho Grande Cantina | May 4 | $50 | | $38 |
| B&B Theatres | May 4 | $50 | | $38 |
| All About You Therapeutic Massage | May 5 | $75 | | $64 |
| Tasty Thai | May 5 | $25 | | $20 |
| The Upper Cut KC | May 6 | $150 | | $113 |
| The Landing Eatery & Pub | May 6 | $25 | | $20 |
| MO Sports | May 7 | $150 | | $113 |
| Fish Market | May 7 | $25 | | $20 |
| La Costa Mexicana | May 8 | $50 | | $38 |
| Champagne Jewelers | May 8 | $500 | | $375 |
| Family Tree Nursery | May 11 | $150 | | $113 |
| Margarita's | May 11 | $25 | | $20 |
| The Artisan Market | May 12 | $50 | | $38 |
| Red Door | May 12 | $50 | | $38 |
| Belvoir Winery & Inn | May 13 | $150 | | $113 |
| Boozers Bar & Grill | May 13 | $25 | | $20 |
| Plato's Closet | May 14 | $50 | | $38 |
| Ginger Sue's | May 14 | $25 | | $20 |
| D'Agee Florist & Co. | May 15 | $50 | | $38 |
| Price Chopper | May 15 | $500 | | $375 |
| Northstar Garden Center | May 18 | $150 | | $113 |
| Classy Chocolate | May 18 | $25 | | $20 |
| Woodchux Axe Emporium | May 19 | $50 | | $38 |
| Catch 22 Sports Bar & Grill | May 19 | $25 | | $20 |
| Cycle of Heart | May 20 | $75 | | $64 |
| Wingz & More | May 20 | $25 | | $20 |
| Relax & Revive Massage Therapy | May 21 | $75 | | $64 |
| Retro Bowl | May 21 | $25 | | $20 |
| J&S Pizza | May 22 | $25 | | $20 |
| Crowley Furniture | May 22 | $500 | | $375 |
| Conrad's Restaurant & Alehouse | May 26 | $50 | | $38 |
| Northland Rolladium Skate Center | May 26 | $25 | | $20 |
| Orange Easel School of Art | May 27 | $75 | | $64 |
| Sorella's Deli | May 27 | $25 | | $20 |
| Serenity on the Square | May 28 | $75 | | $64 |
| 3Halves Brewing Co. | May 28 | $25 | | $20 |
| Freckled Lamb Clothing Boutique | May 29 | $50 | | $38 |
| Hy-Vee | May 29 | $500 | | $375 |