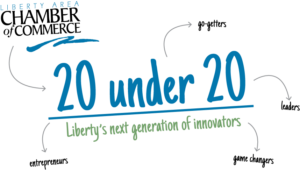 Class of 2020
Do you know someone who has started their own business, founded a non-profit, created a charity event or given back to the community in an extraordinary way?
The Liberty Area Chamber of Commerce would like to recognize 20 individuals under the age of 20 that have made a positive impact in the Liberty area through exceptional entrepreneurship, leadership, innovation or creative vision.
Qualifications:
Live within the Liberty Public Schools boundary lines.
Be 20 or under on December 31, 2020.
Demonstrate leadership by organizing a business, non-profit, or community initiative that makes an impact on the greater community and serves as a positive example to other young people.
Must have clearly initiated business, non-profit or community endeavor or accomplishment.
Know someone who fits the bill? Nominate them for the 2021 Liberty Area Chamber of Commerce 20 under 20 innovator awards to be honored in January. You can nominate a friend, co-worker, student, relative or yourself.
Nominations will be accepted through December 31, 2020.
For more information, contact Gayle Potter at (816) 781-5200 or [email protected].