January 2021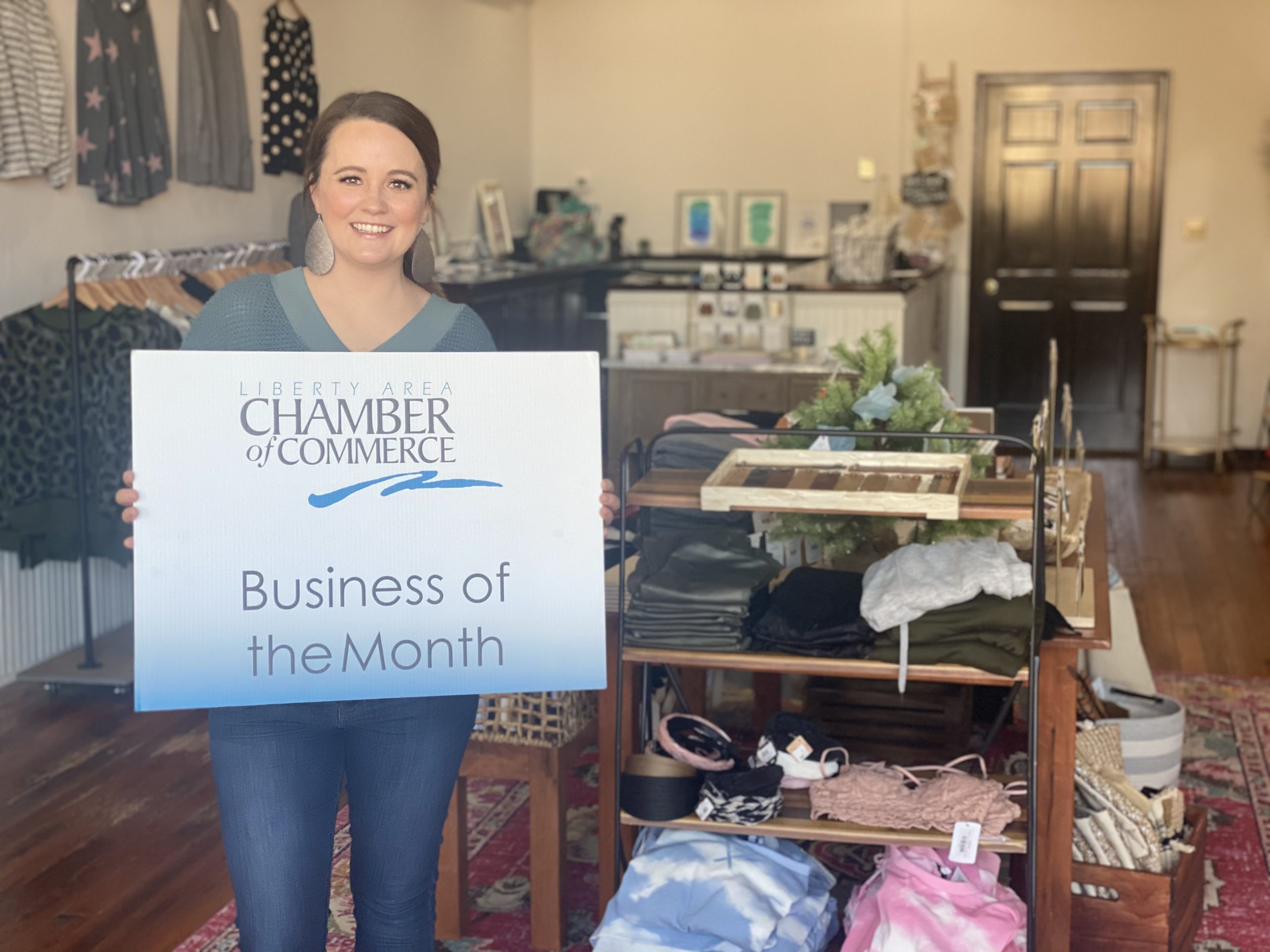 Freckled Lamb is a women's clothing boutique in Downtown Liberty. We are owned and operated by Mary Oyler. Mary started Freckled Lamb while staying at home with her son. She wanted an option for women that was trendy but also practical and comfortable for our busy lifestyles.
Freckled Lamb is just that!  You are going to look good while wearing our clothing but also feel amazing. We only order from the best brands that we know fit well and have the best fabrics. At Freckled Lamb, we celebrate bodies of all shapes and sizes and are here to help you fall in love with yourself.  We consider our Downtown Liberty store a getaway- a place where you can escape life (and even have a glass of wine) for just a little bit. You can shop with us in Downtown Liberty or online!
February 2021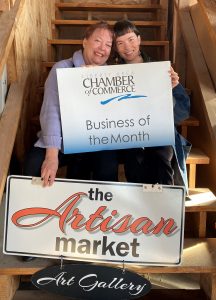 Artist Shawn Garland, owner of The Artisan Market moved to Liberty, from her hometown of Naples, Florida in 2004. She began her journey as an artist, studying fine art at the University of South Florida. She works primarily in Acrylics, she also enjoys creating multi-media pieces, wire sculpture and pyrography.
Shawn enjoys doing commissioned work and works with her clients to design the perfect piece of art for their space. For the past 25 years she has used her skills for Arts and Healing programs in hospitals and senior living facilities.  Shawn also teaches acrylic and watercolor painting to students of all ages. The Artisan Market is located in Historic Downtown Liberty.
March 2021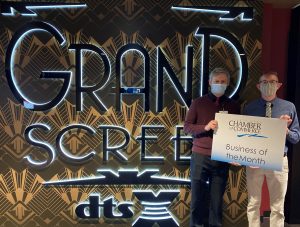 B&B Theatres is family-owned and -operated and has been since 1924. Headquartered out of Liberty, B&B is committed to five core values: family, fun, innovation, joy, and integrity.
B&B Theatres is proud to service Liberty, the Greater Kansas City Metro, and communities across the nation with cutting-edge entertainment options and a guest-centric approach to operations. The past eighteen months have been challenging for the theater industry, and B&B is grateful for a dedicated employee family and an incredible community of guests who have rallied to keep the magic of the movies alive and well. B&B Theatres looks forward to an incredible 2021 and to many more years of bringing exceptional entertainment to local families.
April 2021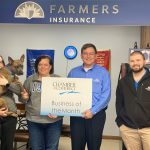 The Watt Agency was created in early 2018 when Jeff Watt and his daughter Jessica took over the Farmers Insurance office of Eric Grampp.  Since then, their office has grown in size and staff.  In May of last year, their office expanded and took over the former Rescue Me Thrift Store space.  The Watt Agency then became a training office for future agents. This is when Grant Baker joined us to begin his journey. In September of last year, Jeff's wife Megan joined the office, and their son began helping this Spring.
Jeff says, "We have always told our new customers 'Welcome to our family', and now we are truly a family office here to help our customers and our community.  Thank you for trusting our family to protect your family!"
May 2021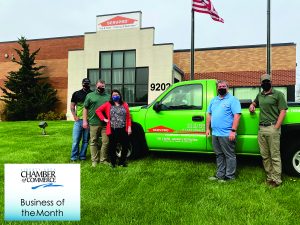 SERVPRO® of Clay County provides restoration services for customers impacted by Fire, Water, Mold, and Bio-Hazard damage.  They serve both the residential and commercial markets throughout the area as an independently owned and operated franchise of SERVPRO® Industries.  SERVPRO® of Clay County has been in business for nearly 40 years and has been owned and operated by Beth & Joe Lillian for over 6 years.  They also own a second franchise location south of the river.
SERVPRO® of Clay County's long-standing commitment and expertise is backed by an extensive regional and corporate support network.  Fast response to disaster losses, big or small, limits the damage and cost to property owners and insurers.  They also provide the necessary resources to restore the property to pre-loss condition.  'Like it never even happened®' is not just a corporate tag line, but what we truly strive for.  Beth and Joe believe SERVPRO® of Clay County is 'big enough to handle any job, small enough to care about every job'.
For emergency services 24/7/365: 816-436-7420
June 2021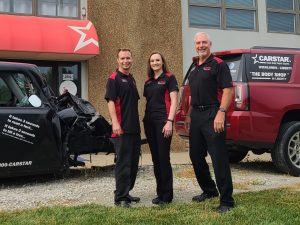 CARSTAR Wicklunds Liberty is proud to be chosen as the Liberty Area Chamber of Commerce Business of the Month for June.
For over 50 years "The Body Shop" has been an active member of the Liberty community and leader in the industry through its state-of-the-art facility, excellent customer service, and philanthropic activities.
Gerald has been grooming Billy Wicklund for the past 22 years. He has now confidently promoted Billy to General Manager with his wife Crystal at his side. Together they will continue the Wicklunds legacy for decades to come. Gerald will remain with the business as CEO and Vice President of Marketing.
CARSTAR Wicklunds Liberty is the longest active Liberty Chamber Member and looks forward to supporting the Chamber and Community for years to come.
July 2021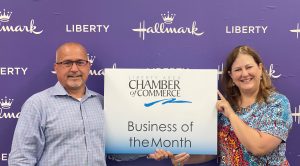 For more than 100 years, family-owned Hallmark Cards, Inc. has been dedicated to creating a more emotionally connected world.
Headquartered in Kansas City, Missouri, and employing 27,000 worldwide, the approximately $3.5 billion company operates a diversified portfolio of businesses. The Hallmark Global business sells greeting cards, gift wrap, and related products in more than 30 languages with distribution in more than 100 countries and 100,000 rooftops worldwide, including a network of company-owned and independently-owned Hallmark Gold Crown stores in five countries.
Hallmark's Liberty Distribution Center opened in Liberty, Mo. nearly 50 years ago in 1972. Today the 1.7 million square foot center distributes approximately 96 percent of all Hallmark products across the United States and Canada and employs more than 1,150 people.
August 2021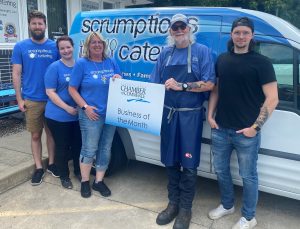 Founded in 2009 by Marcie Hanson, Scrumptious Catering is your place to find delicious, professionally delivered catering without having to break the bank.
We offer many options for weddings, parties, lunches, and more so that we can always find something that will work for you.
Contact us to find out more about how we can make your event truly special!
September 2021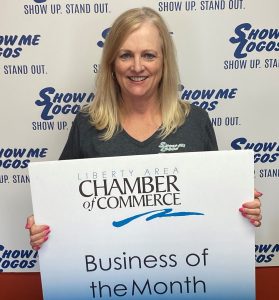 Show Me Logos has been a one-stop shop for all your printing, branding, and promotional needs since 2008.  At Show Me Logos, we specialize in custom apparel such as Corporate wear, printed T-shirts, team uniforms, spirit wear, and embroidered caps.
With customer service that exceeds your expectations, at Show Me Logos, their goal is to make sure you SHOW UP and STAND OUT.
Contact them at www.showmelogos.com, [email protected],  or 816-781-5367.
October 2021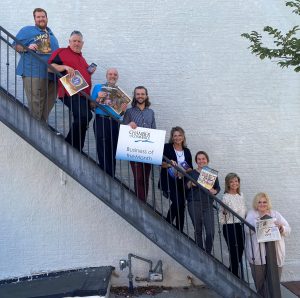 The Courier-Tribune combined the more than 170-year legacy of community reporting in 2017 of three sister publications — The Kearney Courier, Liberty Tribune, and The Smithville Herald — after more than a decade of collaboration among the trio. Throughout 2021, the Courier-Tribune is celebrating its 175th anniversary.
With an office in downtown Liberty, its weekly circulation serves Kearney, Liberty, Smithville, and the surrounding communities in the Northland with the local community, education, government, and sports news — both in print and online. The paper publishes each Thursday while digital offerings are available daily online at MyCourierTribune.com, on Facebook at MyCourierTribune, and @myCTnews and @myCTsports on Twitter.
November 2021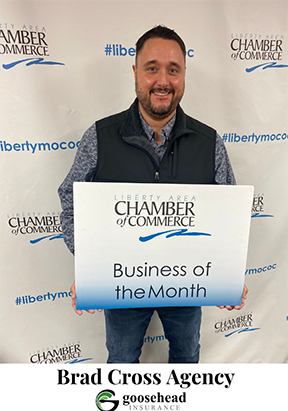 Brad Cross is your premier insurance agent for Goosehead insurance here in Liberty, MO. He has been with Goosehead for 2 years, but had prior insurance experience before becoming a Goosehead agent. Brad is an insurance broker and represents over 80 major insurance carriers in the industry. He is able to shop insurance rates across his network to get customers the best price and value. Brad says "I love being a local business owner and am involved with many local organizations including the Chamber of Commerce".
December 2021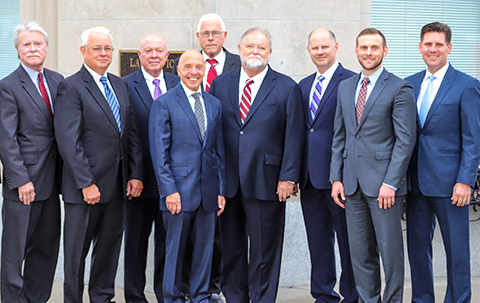 Withers, Brant, Igoe & Mullennix, P.C.
Located on Liberty's historic square for nearly 100 years, Withers, Brant, Igoe & Mullennix, P.C. is a full-service law firm that offers services ranging from complicated business dispute litigation and real estate transactions, to divorce and personal injury matters.