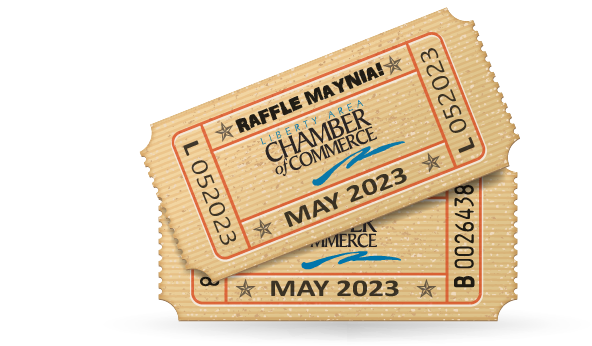 All it takes is one ticket.
The Liberty Area Chamber of Commerce is hosting our 6th annual Raffle Maynia!
There are more than 30 drawings during May, valued at more than $4,000 in gift cards at member businesses that YOU could win!
There will be live drawings each weekday at Facebook.com/liberty.chamber.
There are only 500 tickets available – each one is valid for every drawing!
$20 each or 6 for $100

With your help, we can do more! Every purchase will help support local businesses.
Thank you for your generous support.
| Business | Drawn On | Gift Card | or | Cash | Winning # | | | |
| --- | --- | --- | --- | --- | --- | --- | --- | --- |
| Family Tree Nursery | May 1 | $100 | | $75 | 174 | | | |
| The Parlor | May 1 | $50 | | $38 | 268 | | | |
| Conrad's Restaurant | May 2 | $50 | | $38 | 161 | | | |
| Northland Rolladium | May 2 | $25 | | $19 | 136 | | | |
| Hotworx | May 3 | 1 Month GC | | $0 | 141 | | | |
| Classy Chocolate | May 3 | $25 | | $19 | 181 | | | |
| Orange Easel | May 4 | $50 | | $38 | 260 | | | |
| Fun Run | May 4 | $25 | | $19 | 400 | | | |
| Price Chopper | May 5 | $500 | | $375 | 269 | | | |
| Mo Sports | May 8 | $100 | | $75 | 251 | | | |
| Boozer's Bar & Grill | May 8 | $25 | | $19 | 239 | | | |
| Margarita's | May 9 | $50 | | $38 | 242 | | | |
| Divine Arts Collective | May 9 | $25 | | $19 | 170 | | | |
| Sutherland's | May 10 | $250 | | $188 | 351 | | | |
| Tasty Thai | May 10 | $25 | | $19 | 194 | | | |
| Pomodoro Pizza | May 11 | $50 | | $38 | 332 | | | |
| Wingz & More | May 11 | $25 | | $19 | 288 | | | |
| Champagne Jewelers | May 12 | $500 | | $375 | 239 | | | |
| Serenity on the Square | May 15 | $100 | | $75 | 168 | | | |
| Clothes Mentor | May 15 | $100 | | $75 | 265 | | | |
| The Landing Eatery | May 16 | $50 | | $38 | 204 | | | |
| Ginger Sue's | May 16 | $25 | | $19 | 402 | | | |
| B & B Theatres | May 17 | $100 | | $75 | 123 | | | |
| Scooter's Coffee | May 17 | $25 | | $19 | 100 | | | |
| Woofie's of KC North | May 18 | $50 | | $38 | 119 | | | |
| J & S Pizza | May 18 | $25 | | $19 | 292 | | | |
| Lowe's | May 19 | $500 | | $375 | 265 | | | |
| Historic Downtown Liberty Inc. | May 22 | $100 | | $75 | 331 | | | |
| Meeting Grounds Coffee Co. | May 22 | $25 | | $19 | 135 | | | |
| Red Door Woodfired Grill | May 23 | $50 | | $38 | 300 | | | |
| ICEBERGS Italian Ice | May 23 | $25 | | $19 | 346 | | | |
| Sam's Club | May 24 | $250 | | $188 | 408 | | | |
| Nautical Bowls | May 24 | $25 | | $19 | 420 | | | |
| Pet Supplies Plus | May 25 | $50 | | $38 | 199 | | | |
| Catch 22 | May 25 | $25 | | $19 | 323 | | | |
| Hy-Vee | May 26 | $500 | | $375 | 369 | | | |