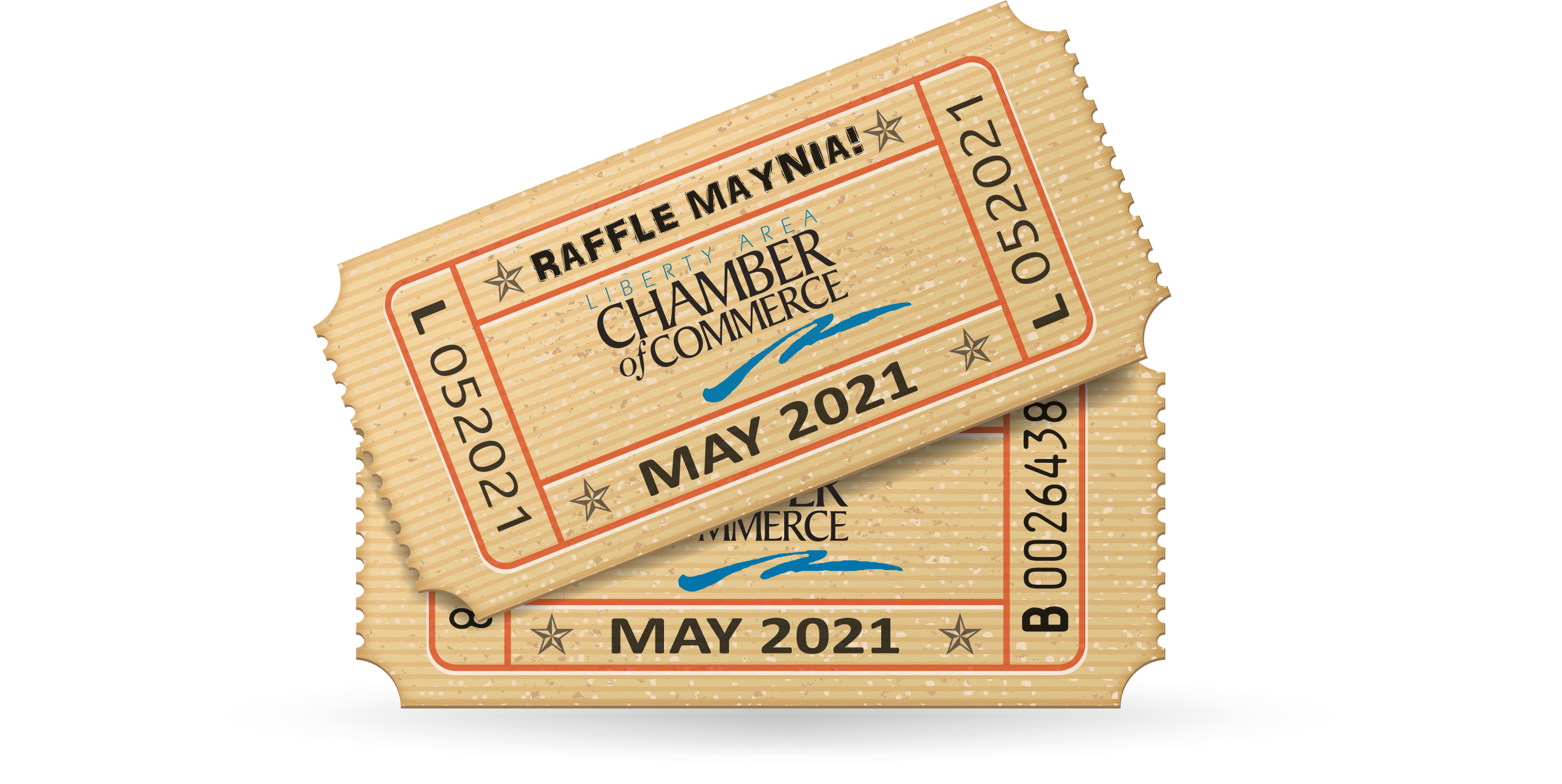 All it takes is one entry.
The Liberty Chamber is hosting our 4th annual Raffle Maynia during the month of May!
** 31 drawings totaling $3,450 in gift cards at member businesses that YOU could win! **
There will be live drawings each weekday at Facebook.com/liberty.chamber.
There are only 500 entries available – each entry is valid for every drawing!
$20 each or 6 for $100

With your help, we can do more! Every purchase will help support local businesses.
Thank you for your generous support.
| Business | Drawn On | Gift Card | or | Cash | Winning # |
| --- | --- | --- | --- | --- | --- |
| Tasty Thai | May 3 | $25 | | $20 | 288 |
| Macarena's Mexican Food | May 3 | $25 | | $20 | 123 |
| La Costa | May 4 | $50 | | $38 | 126 |
| Northstar Garden Center | May 5 | $150 | | $113 | 302 |
| Fish Market | May 6 | $25 | | $20 | 128 |
| Cycle of Heart | May 6 | $75 | | $60 | 178 |
| Champagne Jewelers | May 7 | $500 | | $375 | 233 |
| Margarita's | May 10 | $25 | | $20 | |
| Sugar Kittens Cat Cafe | May 10 | $25 | | $20 | |
| The Artisan Market | May 11 | $50 | | $38 | |
| Red Door Woodfired Grill | May 11 | $50 | | $38 | |
| Belvoir Winery & Inn | May 12 | $150 | | $113 | |
| Catch 22 | May 13 | $25 | | $20 | |
| D'Agee Florist & Co. | May 13 | $50 | | $38 | |
| Cosentino's Price Chopper | May 14 | $500 | | $375 | |
| Classy Chocolate | May 17 | $25 | | $20 | |
| La Dulzura Creamery | May 17 | $25 | | $20 | |
| Plato's Closet | May 18 | $50 | | $38 | |
| Maysy's Nail & Spa | May 18 | $50 | | 38 | |
| Relax & Revive Massage Therapy | May 19 | $150 | | $113 | |
| Wingz & More | May 20 | $25 | | $20 | |
| Woodchux Axe Emporium | May 20 | $50 | | $38 | |
| Sam's Club | May 21 | $500 | | $375 | |
| Northland Rolladium Skate Center | May 24 | $25 | | $20 | |
| J&S Pizza | May 24 | $25 | | $20 | |
| Conrad's Restaurant & Alehouse | May 25 | $50 | | $38 | |
| Uni's Boba & Fun Rolls Ice Cream | May 25 | $25 | | $20 | |
| MO Sports | May 26 | $150 | | $113 | |
| Sorella's Deli | May 27 | $25 | | $20 | |
| Freckled Lamb Clothing Boutique | May 27 | $50 | | $38 | |
| Hy-Vee | May 28 | $500 | | $375 | |