Chamber Cash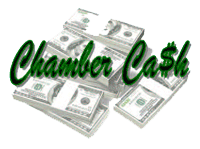 Chamber Cash is a Liberty area gift certificate program that works just like cash. Simply purchase Chamber Cash at the Liberty Area Chamber of Commerce, and spend it on whatever you want – merchandise, services, food or gas. You choose where and how you spend it! – Chamber Cash Participants
Easy gift-giving solution for employees, suppliers, customers, or family members
Company rewards, incentives, safety awards, and thank you gifts
Everyone gets exactly what they want
Great incentive to shop locally and help your community
Chamber Cash may be purchased at the Liberty Area Chamber of Commerce by individuals, businesses, and nonprofit organizations for a variety of uses.
A participating Chamber member accepts Chamber Cash as regular payment – straight across dollar for dollar.
Chamber Cash will be used ONLY for the purchase of merchandise or services.
Chamber Cash should be treated as cash
Chamber Cash should be presented to the merchant on or before the expiration date.
People holding expired Chamber Cash should be directed to the Chamber office.
Merchants redeem Chamber Cash for payment at the Chamber of Commerce, either by mail or in person, on or before the expiration date.
A check is written within 15 days to the merchant (when mailed) for the total amount of Chamber Cash presented.
For more information contact the Liberty Chamber at 816-781-5200 or email us at info@libertychamber.com

Frequently Asked Questions….
Are the local discount stores accepting Chamber Cash?
The Liberty area Wal-Mart store accepts Chamber Cash.  Super Target does not.
Will I get cash back if I don't spend the full amount?
Chamber Cash is used just like cash- dollar for dollar.
Can I pay my utility bill with Chamber Cash?
The local utility companies DO NOT accept Chamber Cash.
Can I deposit Chamber Cash in my existing bank account or open a new one?
Yes, depending on the bank you use. Refer to the participating members list to verify that your bank accepts Chamber Cash.
What do I do if the expiration date has passed on my Chamber Cash?
Chamber Cash is void after the expiration date.